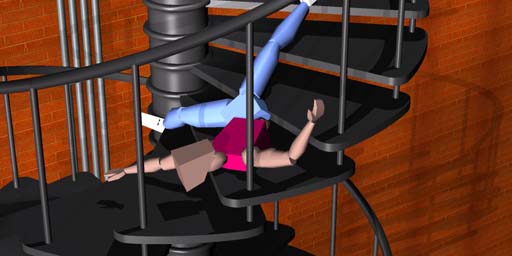 Animats introduced ragdoll physics technology in 1997. Our Falling Bodies product was for years the most advanced ragdoll dynamics system on the market. Our technology for high-quality ragdolls is patented. This broad patent covers most spring/damper character simulation systems. If it falls, it has joints, it looks right, and it works right, it's usually covered by our patent. This technology has been licensed to a major distributor of game development middleware.
At left, the first "ragdoll falling downstairs" simulation, 1997.
Animats introduced anti-slip control technology for legged robots and animated characters in 1994.
This technology is covered by a U.S. patent. Robots which can run up hills without slipping are usually covered by this patent. This technology is available for license.
At left, video presented at Computer Animation 95, in Geneva.