Legacy Product
Avid's Softimage|3D product has been discontinued, and thus this plug-in is no longer marketed.
Falling Bodies, the Softimage|3D plug-in for creating your own fall stunts.

Frustrated with animation "dynamics" systems that don't work? Falling Bodies is the only dynamics simulator for animators that can do tough jobs like the ones below. Don't take our word for it; download the demonstration version and try it for yourself.
Sample animations
Falling downstairs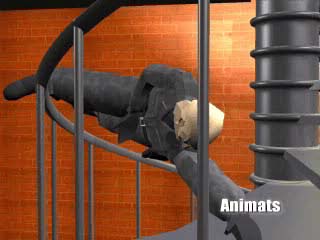 Ouch! Try finding a stuntman to do this for motion capture.
This animation was created entirely automatically by Falling Bodies. We started that guy on the balcony at the top of the stairs, gave him a little forward motion by keyframing, and let him fall. The simulator did the rest.
Collisions of articulated bodies with hard objects don't look right in most simulators. The tough problem is giving characters "weight". We use a new technique for simulating collisions that does a good job of creating "weight". View this one and judge for yourself.
What's it like to use Falling Bodies? See the Tutorial